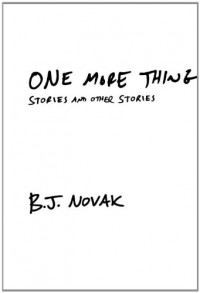 I was surprised by how much I enjoyed this book. Stories flowed from one to another, tight little gems ranging from the maudlin to the absurd. Mostly absurd. Novak understands the idea of saying one thing and only thing in a single short story. He sets it up, knocks it down, and then it's off to the next one.
I also love intelligent writing that doesn't reek of a thesaurus. I don't know how much prose writing Novak had done prior to writing this book, but he has the steady hand of a pro. Several stories reminded of Woody Allen's prose, but Novak is probably the better storyteller.
Short stories have always been near and dear to my heart. And yet my entire life I've heard how they are on their last breath, soon to disappear entirely. This book reminds me how often soothsayers are wrong.